Summer is in full swing, and that means one thing – it's time to hit the pool! If you're like most dog owners, you want to make sure your pooch can enjoy a good swim as well. But before you take Fido for a dip, make sure you have all the necessary swimming gear. In this blog post, we will discuss the essential items every dog owner needs for the swimming season.
Pool Toys
No pool party is complete without some toys. Dogs love to play fetch, even in the water. There are special water toys available that are designed to float. These are perfect for swimming pools and lakes. If you don't want to buy special water toys, you can also use a regular tennis ball. Just be sure to keep an eye on it, as it may sink to the bottom of the pool.
Dog Sunscreen
Just like humans, dogs can get sunburned. In fact, their skin is even more sensitive than ours. Be sure to apply sunscreen to any exposed areas before taking your dog swimming. You can find special dog-friendly sunscreen at most pet stores. This is very important because there have been cases where dogs have gotten sunburn so severe, that they've required hospitalization. This is one of the things that you need to be careful about when taking your dog swimming.
Life Jackets & Swim Suits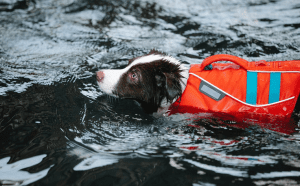 If you're taking your furry friend for a swim, a dog life jacket is a must. There are many different types and sizes of life jackets available, so be sure to choose one that fits your dog properly. You'll also want to make sure the life jacket has a handle on the back if you need to grab your pup quickly. In addition to a life jacket, you may also want to consider a swimsuit for your dog. This will help protect their fur from the sun and chlorine.
Water Bowl
Last but not least, don't forget a water bowl. Dogs can get dehydrated quickly, especially in the summer heat. It's essential to have fresh, clean water available for them at all times. A collapsible travel bowl is perfect for taking to the pool or beach. This way, you can easily pack it up when you're done, and your dog can stay hydrated all day long. Make sure that the water bowl is big enough for your dog to drink from but not too big that it will take up too much space.
When it comes to taking your dog swimming, you need a few essentials to make sure you have packed. We've got you covered from lifejackets and doggie paddles to water toys and sunscreen. Make sure to consider these items when packing for your next trip to the pool or beach with your furry friend. We hope that you find this blog post helpful.…